My Little Yellow Bicycle



12 x 12 Cardstock
5 Favorite Things Pockets
6x6 Paper Pad
Journaling Cards




Lego Building Blocks
from Scrapbook Customs
12 x 12 Double Sided Cardstock and Stickers
12 x 12 Cardstock
Blurbs - Caps and Stickers



NEW Boy's Rule
12 x 12 Cardstock
Element Sticker
What's In My Neighborhood Collection
12 x 12 Paper - 12 x 12 Sticker
Quote Sticker
A Boy's Life by Echo Park Paper Company



Paper and Stickers from Reminisce
Scenic Route

Paper Collections

MFRP .75
Bargainpack Price .69
Studio 8
Little Boys Collection

12 x 12 Cardstock

MFRP .70
Bargainpack Price .68
Designs by Reminisce
Monsters Collection

Studio 8

Day Dream Collection

MFRP .70
Bargainpack Price .68

All papers are double sided 12x12 65lb matte cardstock and are acid and lignin free.
Prima Marketing
12 x 12 Double Sided Cardstock
Bright, Different and quite lovely

.79

2008 Dude Collection

Fall in love with Jolee's Boutique mixed-media sticker embellishments.
Everything from epoxy to paper.
3D Stickers

Retails 3.99
Bargain Price 3.49
Glitter Sticko Classic Stickers

MFRP 1.49
Bargainpack Price 1.29
Designs by Reminisce
"Genuine Boys" Collection

Paper and Sticker
Sandy Lion Pirate Collection
Stickers - Epoxy Gems - Paper
Cafe Phrase Epoxy
These Large Epoxy Stickers go along with
the Cafe' Phrase Metal Stickers.
These are bright, colorful and pop any page or card.
Retail 3.99
Bargain Price 3.49
Classic Sticko Flat Stickers
abt 3" x 6"

Retails 1.29
Bargain Price .99

Boys
Sandy Lion
Retro Boys Stickers 5.5" x 12"
1.89
Deja Views
Wonderful Words Rub Ons
Each sheet is 5" x 8"
Big - Beautiful and just fun to use!
2.99
Cafe' Phrase Epoxy Title Stickers
2.49
Phrases and expressions come to life when
with these catchy phrases.
Individual word and phrases provide for
even more customization by you!
Around the Block
Roll on Transfers
6.99 - 3 units in each package
Around the Block Paper Treats
Brads in a Box
These irresistible boxed brads will stop you in your tracks.
Each box contains 42 assorted pieces.
Sizes vary from 12mm to 15mm.

These are so cute -
you have to see them in person!

4.99 a box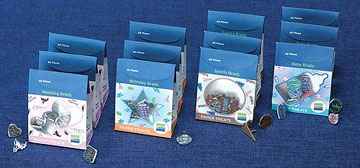 Provo Craft
Brings us
Card Rubons
Colored graphics with
the perfect phrases
for your card making.

5" x 4"
1.75
Fly By
from Gin-X

This has written Boy Boy Boy
all over it. I just fell in love with it.