4th of July - Patriotic
Military- Firemen-Policemen
Early American History

Stars and Stripes Collection
Sticker and 12 x 12 Cardstock
by Bella Blvd





Designs by Reminisce 4th of July Collection 12 x 12 Cardstock and Combo Sticker

12 x 12 Camo Paper
Frances Meyer
12 x 12 Paper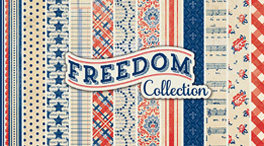 Freedom Collection from Authentique

Cardstock Stickers- 6 x 6 Pad
America The Beautfiul Collection

12 x 12 Paper
Stickers






Yankee Doodle - NEW
Patriotic Parade Collection
Patriotic Picnic Collection
Stars and Stripes Collection
all in 1 place......

Madison Collection
12 x 12 Paper
DieCuts - 3D Stickers
Military 12 x 12 Paper
.75 each

Adrenalin Collection from FabScraps

12 x 12 Cardstock
Gray Chipboard DieCuts
Bo Bunny's Anthem Collection

Coordinating Double Dot Cardstock
12x12 Cardstock- and Ribbon






Designs By Reminisce


12 x 12 Cardstock and Sticker
It Takes Two
12 x 12 Boy Scout Paper

Fact Stickers
MFRP 2.50
Bargainpack Price 2.19
New Firefighter Collection
12 x 12 Paper - Sticker

New Law Enforcement Collection
12 x 12 Paper - Sticker
SRM
Express Yourself Stickers
Printed on Clear

Designs By Reminisce


12 x 12 Paper and Stickers
Karen Foster
Expecting Mother Collection
12 x 12 Paper - Stickers


Flag Paper
12x12 Paper
.65

Designs by Reminisce

Stars and Stripes Collection
Metal Medallions

MFRP 2.99
Bargainpack 2.69
Designs by Reminisce
Freedom 4 Collection
12x12 Double Sided Paper and Stickers
Classic Sticko Flat Stickers
abt 3" x 6"

Retails 1.29
Bargain Price .99
Jolee's 3D Stickers

A playful fresh collection with irresistible charm.
The Vellum Stickers have a delicate appearance and some have glitter accents.
The unique epoxy stickers feature fancy beading, glitter and sequins - what fun stickers!
Epoxy Stickers
Designs by Reminisce

Freedom 3 Collection
12 x 12 Shimmer Paper
Journaling Stickers - Rubons
Glitter Stickers - Big Alphabets
EK Success
Touch of 3D Jolee Stickers
Stickers are about 3" x 7"
1.99
Pebbles Inc
Oh how cute is cute!
Duplicate Cardstock Stickers
Sticker sheet size is 2" x 6" Each sticker is appx 1.5" wide
Each sheet contains 3 stickers
With Cathy B Stickers come texture,

shine, sparkle, style and grace.

Whimsical stickers and paper

that touch on all themes.

6" x 12"

2.25
Sticko presents
Ticket Word
Stickers




These raffle style stickers are
made out of cardstock for
sturdy design. Letters
(84 stickers total/3 sheets per
package) and Word (9 stickers
per package). Coordinat letters
and word stickers together
to create a theme.
Tiny Tales II
These tiny tales are printed in black on white cardstock.
Just cut off the topper and adhere to any page or card.
You will love these cute poetic quips
.30
My Mind's Eye
Whimsies
.40



Dog Tag Chains
3 Feet lenth of 1/8" nickel ball chain
Included are 3 connectors
Chain can be cut to any length.
1.10

Paper Bliss 3D Stickers
These are just the cutest embellishments for any page.
3.99
Karen Foster's Military Paper
Embroidered Patches and Self Adhesive Twill
12" x 12" Paper
.55
Freedom Collection
by Reminisce

Cute cute Cute



Jolee Boutique
Spring Seasonal 3D Stickers

Retails 2.00
Bargain Price 1.75

These Jolee's are very flat-
Great for Cards
Cute and Inexpensive
Jolee LeGrande 3D Stickers
These are just adorable - never saw one I didn't like
Retail 4.99
Bargain Price 4.49
Sew Whats!
Embroidered Stickers
Camping to Grandparents! Adhesive words
and accents that have been carefully
embroidered for a detailed look.
Great as instant titles! (2" x 8")
3.50
Creative
Imaginations

Fireman paper
Scrapz N Stuff
Military and Fun Paper
.50 each
Lil Davis
Embossed Dog Tags
Silver Mat Finish
1.50
Badges
These badges are self adhesive. Just peel
off the back and adhere to your page.
Embossed and metallic look.
Lightweight and flat for flat srappers.
2.50
K and Company
Military Grand Adhesions
These 3D popped-up diecut stickers will make any
military page jump right out at you.
4.25
Stamping Station
Laser Die Cuts
Beary Patch
Mini Stickers
Abt 4" x 5"
1.00
Karen Foster Design
Let Freedom Ring

12" x 12" Acid Free Paper and 6" x 12" stickers