Happy Birthday - Happy Birthday- Happy Birthday


Around the Block
Big Brads
These Brads come in a 10" x 5" Plastic Zippered Bag to store all your brads or
perfect for pens and markers or other tools.
Brad Size are about 2 " - Just Adorable
About Time
12" x 12" Paper
.50
12 x 12 Paper

12 x 12 Paper


12 x 12 Paper

12 x 12 Paper

Sticker

5 x 12"

Photo Frames

12 x 12 Paper

12 x 12 Paper

15 DieCuts

7 Journaling Tags
Party Stripes

Party Candles


Candle Silhouette

It's A Party

Party Fun

Party Decorations


Party Monster Kit


Get 6 12 x 12 papers, 1 Picture Frame

5 Journaling Tags, 1 Sticker Sheet

14 Die Cuts

5 Journaling Tags

12 Die Cuts
Doodle-Pops
(These are cute little 3D popped up card
stock sticker - Great for cards or titles)

Braddies
4 of the cutest Brads ever



Birthday Bisque Collection
It's Your Day Collection from "Got Moxxie "
12 x 12 Cardstock
Stickers
Bo Bunny's Surpise Collection
Hello Cupcakes

12x12 Cardstock - Clear Stamps - DieCuts
Chipboard Stickers- 6x6 Paper Pad

Hello Cupcakes 12 x 12 Cardstock


1.00 Each
Happy Birthday Kit

In this kit you will receive:
1 Chipboard Album
1 Title Sticker
1 Sticker
12 Sheets of paper cut to size
2 Cardstock sheets cut to size
2 Yards of ribbon

MFRP 14.99
Bargainpack Price 9.99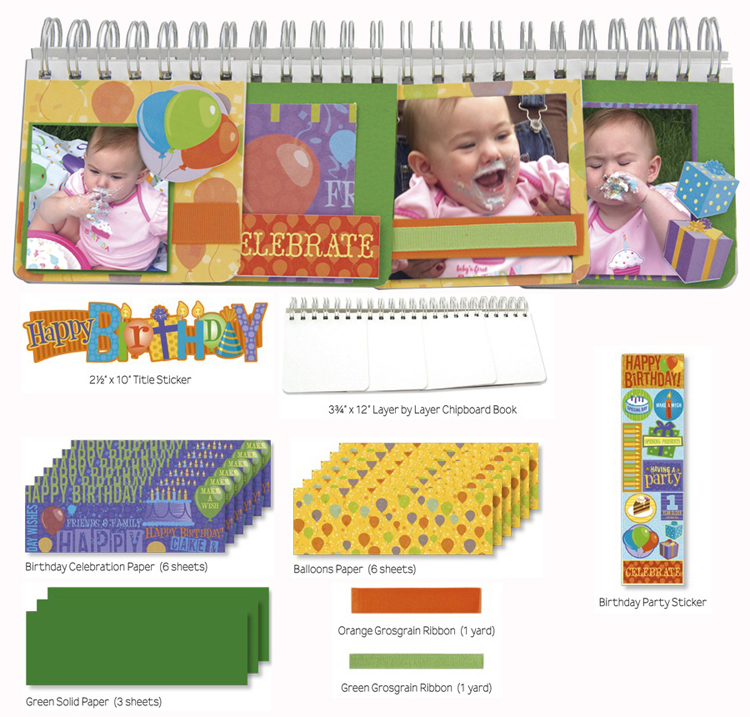 Birthday Bash Collection

12x12 Cardstock - Clear Stamps - Rubons

| | |
| --- | --- |
| | Rubons - Cardstock Stickers - Spring Stickers |
My Little Yellow Bicycle

Say What Words

Word Stickers



MFRP 2.29
Bargainpack Price 1.99
EK Success
Birthday Theme Stickers

Jolee 3D Stickers

Jolee's 3D Stickers
EK Success
Chipboard Books
Eyelet Factory
Birthday Charms
Aluminum with the cutest detail
Glitter Sticko Classic Stickers

MFRP 1.49
Bargainpack Price 1.29
Pressed Petal's Rubon Ornamentals
Create a designer look with the new Rub-on ornamentals.
Simply transfer to nearly any surface to leave a lasting impression!
Sheet includes 17 fun rub-on accents.
Package Dimensions: 7 1/2" x 4"
MFRP 2.49
Bargainpack Price 1.25
Jolee's 3D Stickers

A playful fresh collection with irresistible charm.
The Vellum Stickers have a delicate appearance and some have glitter accents.
The unique epoxy stickers feature fancy beading, glitter and sequins - what fun stickers!
Epoxy Stickers
Scrap Metal Words
Our Scrap Metal words are contoured, self-adhesive
aluminum embellishment.
Light-weight and archival safe.
Each word may have slight variations in color and texture.
3/4" tall

MFRP 2.99
Bargainpack Price 1.69

EK Success Disney Memories
Touch of Jolee Stickers
MFRP 1.99 Bargainpack 1.79

Classic Sticko Flat Stickers
abt 3" x 6"

Retails 1.29
Bargain Price .99

Birthday
Cafe' Phrase Epoxy
Title Stickers
Phrases and expressions come to life when with these catchy phrases.
Individual word and phrases provide for even more customization by you!

Small and Large Sizes
Designs by Reminisce
I Can Count Paper

Double Sided Cardstock
One side is boy and the other side is girl
Front - Boy / Back - Girl
.85 each

Front

Back
It Takes Two

abt 5 x 8 Rubons
Brightly colored and just
so darn cute!

3.99
Around the Block Paper Treats
Brads in a Box
These irresistible boxed brads will stop you in your tracks.
Each box contains 42 assorted pieces.
Sizes vary from 12mm to 15mm.

These are so cute -
you have to see them in person!
4.99 a box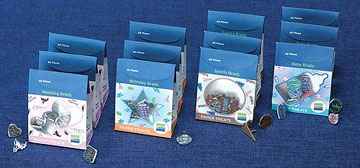 With Cathy B Stickers come texture,

shine, sparkle, style and grace.

Whimsical stickers and paper

that touch on all themes.

6" x 12"

2.25
ScrapEase
Metal Frames and Metal Stickers
1.19
EK Success
Epoxy and Vellum 3D Stickers
Stickers are about 4" x 6.5"
Layered vellum Dimensional Stickers have a delicate
appearance – some have glitter and bead accents.

Epoxy Stickers Reg 3.49 Our Price 2.99
Vellum Stickers Reg 2.49 Our Price 1.99

Click here to view all
Jolee Expoxy and Vellum Stickers
My Mind's Eye Taglets

Pre-cut and ready to use. Items mix and match perfectly.
Tag-lets are self-adhesive. Use with Mini Moments frames,
titles & die cuts. Acid and Lignen free.

Pack contains:
8 large double-sided tags,
6 small double-sided,
2 round double-sided tags,
40 illustrated tag-lets sticker (5 each of 8 designs).
1.80

Royal Brush Rub-Ons

2.35
5.5" x 9" are beautifully
and brightly colored
(images are not the best to show how
beautiful they really are)
Creative Imaginations
Epoxy Stickers
Cute Cute Cute and Adorable
4.99
Making Memories
12" x 12" Birthday Embossed
.59
This paper is embossed (although you can't see it quite clearly in
these scans) with balloons and party hats.
Stampabilities
La Petites Stickers
3D Wire and Wood and more
Shown at pretty close to actual sizes
1.87
Birthday Party Scrapbooking Kit
In this kit you will receive 6 sheets of paper, 1 set of frames, stickers and die cuts.

Extra Paper for Kits - 1 of each of these are already in the kit
Sew Whats!
Embroidered Stickers
Camping to Grandparents! Adhesive words
and accents that have been carefully
embroidered for a detailed look.
Great as instant titles! (2" x 8")
3.50
Twin Laser Cuts
Laser Die Cuts come in different fonts and vary in size between 4" - 7"
Cute and some are lacey.

1.49
Large Cafe Phrases abt 5 x 12"
Cafe Phrases
2.25
Doodlebug Design Tokens

Different Themes, Colors and the colors can intensify as you
glue dot, glue, double sticky tape, sew or brad them to your
colored and pattern pages.
Tokens are ultra thin apprx 1/16"
Cute Cute Cute
3.25
Balloons Balloon Balloons
3/16" Eyelets
12/1.00
Great for Birthday-Park-Zoo and Fly Away Pages
The Happy Hammer
Birthday Eyelet Charm
Happy Birthday charm are made out of aluminum
and have raised embossed detailing.
.40 each