Carol Wilson Fine Arts
Dog Fun
Cute Cute Cute Cute Cute Buy the kit for 6.99 (to the left)
Kit includes - 6 papers - 1 Sticker Sheet
1 Set of Die Cuts - 1 Set of Journaling Tags
1 Set of Frames
Totaling 9.00 if bought separately

Coordinating Double Dot Cardstock
12x12 Cardstock- and Ribbon

Little Buddies Collection
from Reminisce



Who's my BFF Collection
from Reminisce


Karen Foster's
Woof

6 X 9 Sticker
Sparkly Sticko Classic Stickers

MFRP 1.29
Bargainpack Price .99
Creative Impressions Animal Brads
Cat - Dogs
12 /1.25
Around the Block Products
Metal Value Pack Charms
5.99

Cafe Phrase Epoxy and Metal Stickers
These Large Epoxy and Metal Stickers make any page complete.
These are bright, colorful and pop any page or card.
Retail 3.99
Bargain Price 3.49

Double Punches are Medium Punches- A shape within a shape.
A knockout of a punch.
Deja Views

Wonderful Words Rub Ons

Each sheet is 5" x 8"

Big - Beautiful and just fun to use!


Colored Rubons 3.49

Click here to see all Rubons
Sandy Lion
Dog Collection
Flat Stickers, Epoxy Stickers



Jolee's 3D Title Stickers
3.99

EK Success "Dog Collection"
Jolee 3D Sticker LeGrandes
4.99

Cafe' Phrase Epoxy Title Stickers
2.49
Phrases and expressions come to life when with
these catchy phrases.
Individual word and phrases provide for even
more customization by you!
Around the Block Paper Treats
Brads in a Box
These irresistible boxed brads will stop you in your tracks.
Each box contains 42 assorted pieces.
Sizes vary from 12mm to 15mm.

These are so cute -
you have to see them in person!
4.99 a box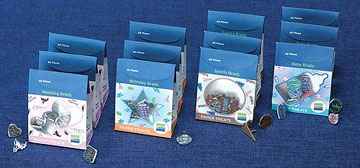 Creative Impressions
Shape Clips
New Red White and Black Bone Clips
2.75
Sticker Studio
Bubbletop Stickers
These cute colored bubble top stickers are approx 2" x 2"
3.25
Sticker Studio
Metal Stickers
These cute metal stickers are approx 2" x 4"
2.50