Click here to view the Valentines Clear and Wood Stamps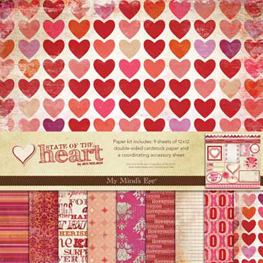 Paper Kit includes
9 sheets of 12 x12 double-sided cardstock
and coordinating accessory sheet
Bo Bunny's Star Crossed Collection Star Crossed Cardstock
Designs by Reminisce Valentine Collection

| | | |
| --- | --- | --- |
| | by Designs by Reminisce | |
| | | |
Anything For Love Collection
from Reminisce



Hey Sugar Collection
Hey Sugar Cardstock



Black X and O's




Pink Lips

Pink X and O's


Heart Arrow


Silver X and O's

Pebbles Ince
Valentines Etc. Cardstock and Cardstock Stickers

Pebbles Inc Love Collection

Creative Imaginiations Miscellaneous Paper
MFRP .69
Bargainpack Price .50
Clearance Price .25

Karen Foster Miscellaneous Paper
MFRP .69
Clearance Price .25

Valentine Flowers
Clearance .25


Baby Blue

Canteloupe

Dijon Yellow

Rain Cloud Grey

Sunshine

Carribean Blue

Patriotic Blue

Spring Green

Coral

Jelly Purple

Deep Ocean

Gold Nugget

Rosie Posie

Grassland Green

Lilac Purple

Karen Foster
My Love Collection
12 x 12 Paper - Stickers

Jolee's Boutique Le Grande
Valentine 3D Stickers
These are just so cute! Pefect size for your Valentine Cards!
Retail 3.99
Clearance Price 2.49



Lost and Found 12 x 12 Cardstock
MFRP .99
Bargainpack Price .75



Cupid's Arrow Foiled 12 x 12 Cardstock
MFRP .99
Bargainpack Price .75
12 x 12 Cardstock
MFRP .99 - Bargainpack Price .89
Anna Griffin

Juliet Collection
12 x 12 Paper
DieCuts - 3D Stickers

12 x 12 Cardstock


Classic from FabScraps

Gray Chipboard DieCuts
Valentine's Collection
12 x 12 Paper
Sticker
Express Yourself Strickers
Great with Tubles, Glassine Bags
and Pillow Boxes
6" x 9"

MFRP 2.99 Each
Bargainpack Price 2.59
Imaginisce Love You More Collection


Designs By Reminisce


12 x 12 Paper and Stickers
Creative Impressions New Ribbon
Fun for any page, card or project.
.50 a yard
Yours Truly by Echo Park Paper Company

Hey Sugar Collection



Hey Sugar Bargain
Get 2 sheets of each papers
1 Journaling Cards
1 Strip Tease
1 Alphabet Button Fashions
2 Cardstock Stickers
Bargainpack Price 15.00

MFRP 19.46

Order this Bargain and get either the
Victoria or the Loveline Alphas FREE
Email me which you prefer
| | | |
| --- | --- | --- |
| | by Designs by Reminisce | |
| | | |
My Little Yellow Bicycle

Sweet Love Collection

Double-sided Cardstock
Specialty Papers - Stickers - Chipboard Albums




My Little Yellow Bicycle

Love Letters Collection

Double-sided Cardstock
Specialty Papers - Decorative Edge Paper
Fold out Albums - Stickers - Chipboard Albums
Cardstock Stickers - Chipboard Stickers - Rubons
Queen and Company New Valentine Collection
Pressed Petal's Rubon Ornamentals
Create a designer look with the new Rub-on ornamentals.
Simply transfer to nearly any surface to leave a lasting impression!
Sheet includes 17 fun rub-on accents.
Package Dimensions: 7 1/2" x 4"
MFRP 2.49
Bargainpack Price 1.25
You want Valentine Stickers?
Here they are!
Even affordable for children!

Stampabilities Stickers
abt 4" x 5" on white
.60
Jolee's 3D Stickers

A playful fresh collection with irresistible charm.
The Vellum Stickers have a delicate appearance and some have glitter accents.
The unique epoxy stickers feature fancy beading, glitter and sequins - what fun stickers!
Epoxy Stickers
Cafe Phrase Epoxy
These Large Epoxy Stickers go along with
the Cafe' Phrase Metal Stickers.
These are bright, colorful and pop any page or card.
Retail 3.99
Bargain Price 3.49
EK Success
Epoxy and Vellum 3D Stickers
Stickers are about 4" x 6.5"
Layered vellum Dimensional Stickers have a delicate
appearance – some have glitter and bead accents.

Epoxy Stickers Reg 3.49 Our Price 2.99
Vellum Stickers Reg 2.49 Our Price 1.99

Click here to view all
Jolee Expoxy and Vellum Stickers
EK Success
Touch of 3D Jolee Stickers
Stickers are about 3" x 7"
1.99
Classic Sticko Flat Stickers
abt 3" x 6"

Retails 1.29
Bargain Price .99

With Cathy B Stickers come texture,
shine, sparkle, style and grace.
Whimsical stickers and paper
that touch on all themes.
6" x 12"
2.25
Fall in love with Jolee's Boutique mixed-media sticker embellishments.
Everything from epoxy to paper.
3D Stickers
Retails 3.99
Bargain Price 3.49
Cute Cute Cute Cute
Heart Shaped Lalique Matte Finish Tags!
Frosted semi-transparent Acrylic!
Put a mini brad through the hole and make it a tag.
Use rub-on letters and make them a header on any page.
Write on them, or just use them plain.

15 mm Small Heart Lalique

22 mm Small Heart Lalique

Provo Craft Mini Wooden Collectibles
.30 each
Queen and Company Large Heart Brads
12/1.00
Large Heart Brads 12/1.00
Mini Heart Brads 20/1.00
CI LargeSquare and Heart Brads
Spring Colors
15/1.00
Bazzill Mini Hearts
48 Pieces in each package
16 of each color = 48 pieces

2.80 pkg
Big Brad Shapes
Actual Size Shown
15/1.00
Hearts
Glossy
Black Brads


Sterling Silver
Brads
(These do tarnish over time
but they are gorgeous)

Stirling Silver is Back
Found a Better Price

White Glossy
Brads
Provo Craft

Theme Rub-Ons

abt 5" x 8"


2.50

Great words for cards, scrap pages
invitations and tags






Rub-Ons from Phrase Café® for journaling

Includes poignant statements and expressions of popular themes.
Use these words, phrases and quotes for cards, invitations,
scrapbook pages and more! Rub-On stick included in every package.
Dimensions: 6 3/4" by 3 3/4"

1.99
Card Making Royal Brush Rub-Ons
2.50

5.5" x 9" are beautifully and brightly colored
(images are not the best to show how
beautiful they really are)
Tiny Tales
These tiny tales are printed in black on white cardstock.
Just cut off the topper and adhere to any page or card.
You will love these cute poetic quips
.30
My Mind's Eye
Whimsies
.40
(Free Paper in the bargains)
Inspirables
Choose Brushed or Cracked Paint Sets
or get them both!
Alphabet Stickers, Paper, Rubons, Frames and Tags
Coolest paper ever! It acutally feels like it is painted. It shimmers in the light.
A Coordinating Collection of colorful papers that truly appeal to
the senses of sight and touch!

Cool Cool Cool

Inspirables Red Brushed Bargain

Inspirables Red Cracked Bargain
Beary Patch Large Letters
Each sheet is 8.5" x 11"
2.50 (retails for 3.30)
Provo Craft Heart Paper and Stickers
Just in time for Valentine's Day
Black - Red - White Gable Boxes
1.25
Bottom dimensions are about 5" x 8" and 5.5" high
(not including the top where it folds)
Christmas Craft Project Below
Valentine Charms
.40 each



Cute Cute Cute Cute
Whimsical Hearts
3/16" Eyelets 5/1.00


Tulip Red
5/1.00

Queen and Company
Heart Throb Brads
12/2.80
Valentine Brass
Conversation Hearts
and Rose Brads
5/1.00

Creative Imaginations Brads
Creative Impressions
Matte and Metallic Country Heart Paper Fasteners
(Brads)
12/1.00


Metallic Red
Country Hearts