Around the Block
Roll and Go Packs 3 different kinds
Alphabet Stamps - Puffy Brads - Travel Embellishments MFRP 19.99
Clearance 5.00 EACH

Spring Puffy Brad Kit In this blue Roll N Go tote you will have more than 230
pieces. Simply poke the brad legs through the puffy
shape and attach to the paper like you would
a normal brad. Great for kids learning to
scrap for the first time

Travel Embellishment Super Pack In this brown Roll N Go tote you will have more than 120
pieces. Brads, Ribbon, Chipboard and more.
O'Scrap O'Jellies

Cute cute Cute!
These cute soft 3D Stickers are just fun!
Peel and stick on any frame,
craft or package!

MFRP 2.99
Bargainpack Price 2.49

Sale 1.99
Around the Block Framing Tape
Raise your creative quotient with fresh style to suit any project.
Reminiscent of ribbon, Frame Tapes with decorative edges
are designed to add dazzle. It would be a shame
not to add a piece to all of your best designs!
Simply pull, tear, peel and stick! Perfect for school,
office, card making, scrapbooking or any other craft project
you can dream up!!
Width varies from 1.5" to .75", 2 meters in each roll.
MFRP 5.99
Bargainpack Price 4.99
O'Scrap Brads - 3 Sizes
Cute Cute Cute
Attach your embellishments, add a touch of texture and shine,
or sprinkle your page with polka dots. These brads
are just cute and unique colors you won't find anywhere else.
Choose from 3 handy sizes. 20mm 7mm 5mm
MFRP 1.49
Bargainpack Price .99

Color

20 MM

7 MM

5 MM


Baby Boy


Baby Girl



Flowers


Bugs


Home Again


Friends


Lets Party


Giddy Up


Princess/Dance


Cats/Dogs

Life Is Good


Around the Block
Tape Writer - 2 Tools in One
Interchangeable Font Wheels

Use refill sticky tape, paper or exclusive metallic
or decorative strips sold separately.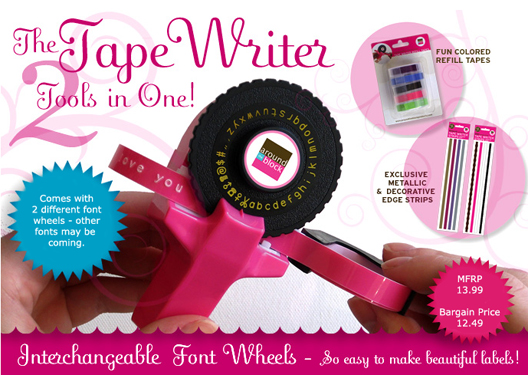 Font and Icon Wheels
Now you can buy the different wheels to go on the Tape Writer!
Change up the wheels and you have a completely different look!